Minimalist Parenting now available for pre-order!
It's with incredible excitement, overwhelming gratitude, and not a few butterflies in our stomachs that we announce MINIMALIST PARENTING is now available for pre-order at Amazon, Barnes & Noble, and your favorite local bookstore!
We're slightly giddy about this moment. A year ago, Minimalist Parenting was little more than an idea traveling via lightening bolt between our heads. In shockingly fast progression, it went from idea to book proposal to kismet-conversation with our publisher, Bibliomotion, to manuscript…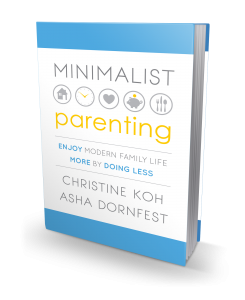 …to this. Something much more than a book for us. Minimalist Parenting is an idea and practice that has changed our lives. This book tells the story of how it works for us, and how you might make it work for your family, too.
What Minimalist Parenting is about
We will never claim to have all the answers, nor do we promise a zipped-up prescription for a perfect life. Here's what we will do:
Help you find the confidence to make your own parenting choices.
Encourage you to embrace one of the many "right" ways to live family life.
Share practical strategies for de-complicating your schedule, decluttering your home, and de-fogging your mind.
Show you how to find time for yourself.
Why pre-ordering helps us
Strong pre-orders send an important message to bookstores. Pre-ordering tells the bookstore you want to receive Minimalist Parenting as soon as it's available. This increases the buzz around a book which encourages more stores to stock it on their shelves. The more stores that stock Minimalist Parenting, the better chance we have to reach the (many) people who don't already know us.
Perhaps just as importantly, Amazon is more likely to discount books with strong pre-orders. Amazon offers a pre-order price guarantee, so if the price drops between now and release day, you get the lowest price.
Folks who pre-order often get the book before the official release date (ours is March 19, 2013) so you'd be among our first readers!
Pre-order now!
Every single pre-order makes a difference. We hope you'll pre-order Minimalist Parenting now and help us get off to a great start. There's more to come, but for now, thank you, thank you — your encouragement and support means everything to us.
— Christine and Asha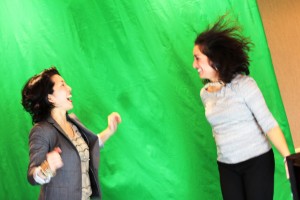 Pre-order now at Amazon, Barnes & Noble, or your favorite local bookstore.
Still want to know more about Minimalist Parenting? Go to About The Book to read advance praise and watch our video trailer.
Even more: Christine's pre-order announcement at Boston Mamas and Asha's at Parent Hacks.