Minimalist Holidays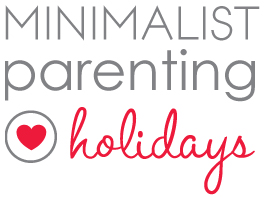 It's odd that the holidays — occasions for rest, reflection, celebration, and togetherness — can turn into another source of stress and overwhelm. We're here to help! Welcome to Minimalist Holidays, a blog series inspired by the central theme of Minimalist Parenting: you can enjoy life more when you do less.
Minimalist Holidays posts will appear where Christine and Asha regularly blog (Boston Mamas, Parent Hacks, and The Accidental Expert) but we'll link to the entire series below so you can find everything in one place. Bookmark this page and/or pin our pretty graphic! New links will appear here throughout the holiday season so come back soon!
---
Yay for Minimalist Holidays!
1. No gravy boat? Simple substitutions for your Thanksgiving table
2. Seven reasons why holiday meal delegation is totally awesome
3. Six easy ways to involve kids in Thanksgiving 
4. Seven ways to shorten your gift list without stifling your holiday spirit
5. Fourteen crafts your kids can gift
6. Ten awesome and easy DIY holiday food gifts 
7. How to lower the holiday bar without dropping it
8. Eight reasons why crockpots are sexy 
9. What my kids cherish most about holiday rituals
10. Even minimalists love their stuff
11. Six simple ways to express gratitude + foster connection
---