Boston Launch Party = Insanely Awesome
I cannot believe that the Boston launch party was one week ago; what an insanely awesome and magical night. Thank you to everyone who attended or sent your well wishes! I want to share a photo recap, but first thank you again to Isis Parenting for your amazing support with this event, especially to Heather Coughlin who immediately said, "Let's do this thing!" when we first discussed it and to Laura Thom for her amazing work in pulling off all the details. It was such an honor to connect the March of Dimes as the beneficiary of this event. They are an amazing organization; go sign up for the Boston March for Babies on May 11, find a walk near you, and/or make a donation!
Also, one more quick thing: the Isis Parenting/Minimalist Parenting/March of Dimes love continues through tomorrow! Stop by Isis Parenting at Prudential Center by closing on Saturday, April 6, and buy a copy of Minimalist Parenting — all proceeds from book sales will go to March of Dimes! A limited quantity of books are available so go get yours!
And now, on to the recap:
When I arrived for sound check, I nearly hyperventilated. The space was so beautiful. And there were, um, a lot of chairs. Eep.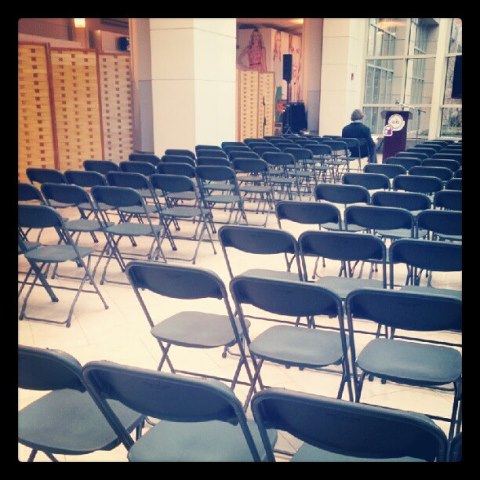 I'm grateful to Cindy Meltzer (loved seeing you Cindy!) for capturing this shot with Heather Coughlin of Isis. What an amazing woman.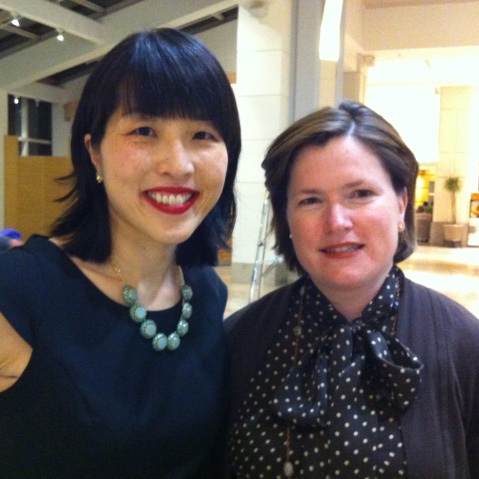 As the event started to fill up, I was in perpetual freak out and squeal mode as I greeted people from all phases of my life…middle and high school, college, my first new mom friends, and blogging colleagues, not to mention people from the community who I have interfaced with on the internet and was meeting for the first time. So amazing! And I seriously could not believe that Chrysula Winegar came up from Connecticut for the event. As I confessed during my talk, I have issues when it comes to people showing up for me. Thank you, Chrysula, for showing up.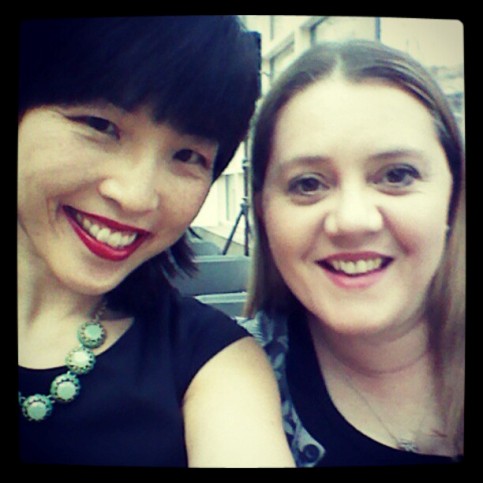 I simple adore Jane Rhodes (and hey, there's my friend Chuck in the background!). Jane is a talented (and ever stylish) blogger who contributes wonderful writing to Boston Mamas. I was thrilled to meet her husband too.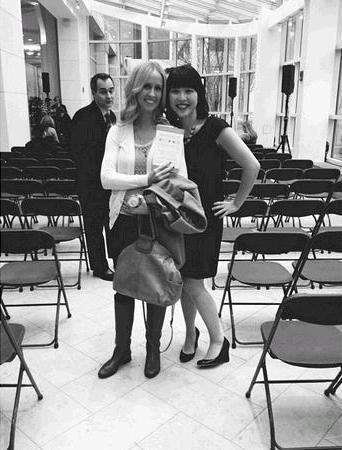 It was fun to meet Casey (snapper of below photo) and her lovely partner. Casey and I rap on Twitter. The internet is fun. Also, Flat Asha? She loves to party. People took a lot of pictures of her when I broke her out at the podium.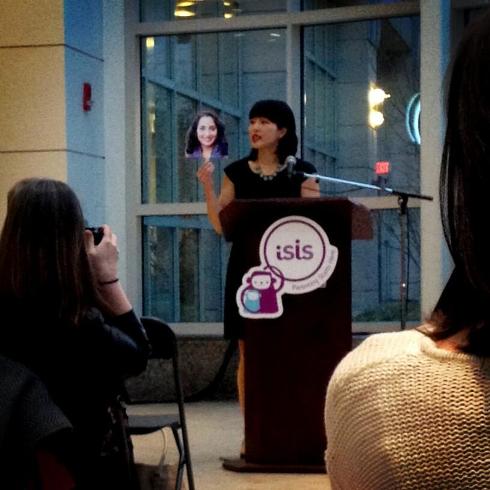 My girl Roxanna shot one of my favorite pictures of the evening. I so wanted to take a photo of the crowd from the podium, but I kept thinking, No, be present in the moment. Thank you, Roxanna, for capturing this vantage point!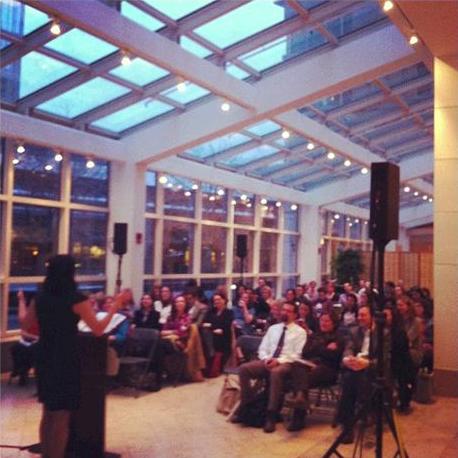 And one from the reverse angle. Man, this space was beautiful. Thank you Nancy Holtzman for capturing this view. For my talk, I decided to focus on things that were not fully available in the book; my personal story (from academia to freelancer) and the power of community. Word on the street was that it really resonated with people. I'm so, so glad. And also grateful to Asha, Heather, and Meagan for helping me steer the content in this direction.
Paige is one of my longtime and dear friends. She also apparently never ages.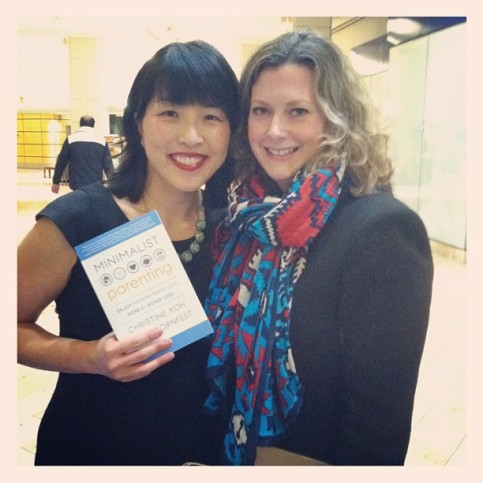 I was so grateful to my sisters Jennifer and Stephanie for supporting me at the event. They have seen me through, well, a lot of good and bad times.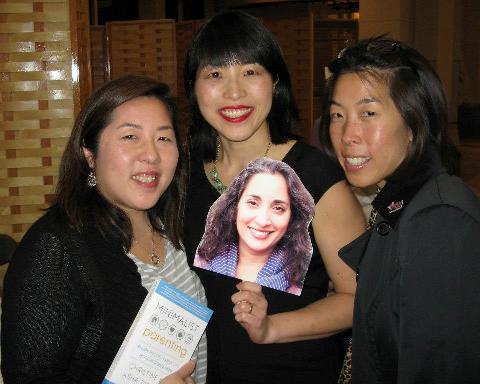 I'm grateful to Paige for capturing the one photo I have of me and Jon at the event. Jon is an incredible husband and father. He's also an incredible therapist, should you need his services. Thank you for sharing this moment with me, Jon.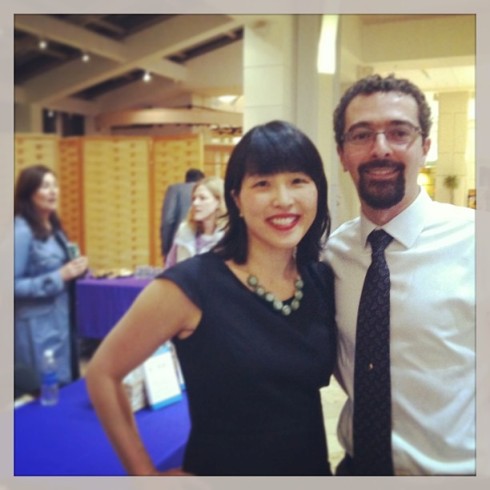 And then the next day…how awesome is this? Bridget of Purely Pears, who I had the pleasure of meeting at the launch party, tweeted me this photo of her signed book and babies. Gah! Babies!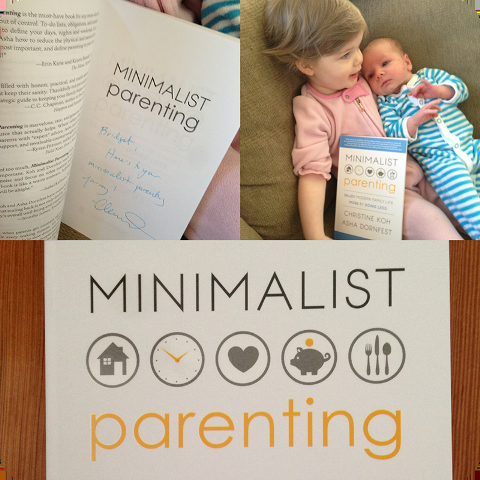 And then…it turns out my publisher Erika snapped this photo and submitted it to Publishers Weekly. And it was selected as Photo of the Day! BANANAS.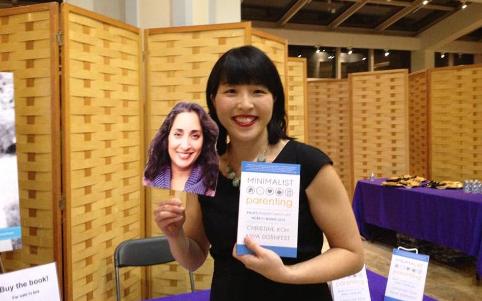 As you can see, it was a crazy awesome night. There were so many people I love but don't have photos of; as you can see, I was relying on everyone else's photography for the most part! Thank you everyone for coming, and thank you to everyone who has been supporting us virtually too. Asha and I are so, so grateful to you all!